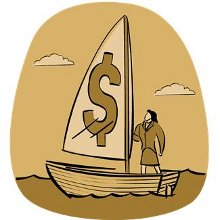 Isn't it frustrating when you see some tourism operators dismiss the value of an internet presence when most travellers are now using the web and social media to plan and book their trips?
Consider this recent example.  A cruise operator that takes passengers on wilderness cruises through a remote part of Gippsland surrounded by a rugged national park (we won't name them here to protect their privacy) has had their details and website listed on many tourism websites including that of Parks Victoria. Recently, the cruise operator's website went off-line, so we found their email address and alerted them to the fact.  The reply we got back (we've edited it for clarity) is below:
Unfortunately our web site has been discontinued –
not enough hits to justify the cost
What an unexpected reply!
Firstly, the cost of a .com.au domain name, plus simple web hosting with a reputable Australian provider, will set the cruise operator back around $70 per year. How can this tourism business justify removing their internet presence to save the tiny annual website operating cost of $70? You may wonder how many thousands of dollars they were instead spending on brochures to put on the shelf of the local visitor information centre or the big bucks they were splurging on colour newspaper ads.
Secondly, their statement that the number of hits didn't justify the web presence is unqualified. How many hits did they want? Looking at the counter they used to have on their website, we estimate they got about 1,000 visitors (real people, not web robots) per year.  For a small operator in a remote area, that's not too bad, particularly as there's much potential for future growth if they start doing some more active promotion on the web.  All they needed was the right people to come across the website, and they could have had booked out cruises galore.
Let's be really clear about this – an internet presence in the form of a website is one of the cheapest ways of giving your tourism business exposure in the travel market.  Once you have a website, people will have something concrete to reference on related websites. Here at Travel Victoria, we showcased their business on our tours and cruise pages, for free, giving them good exposure. Now we have nothing to link to, so their listing gets deleted as we have no authoritative source of information to present to our website visitors.  Same goes for social media.  People who want to discuss or share details of this amazing cruise through one of Victoria's most pristine wilderness areas simply have nothing official to refer others to. People want to instantly see the cruise schedule, costs and photos of the journey so they can see if it is of interest to them.  The cruise operator's website could also be used to inspire other people who wouldn't normally do that sort of thing to actually experience it.
With the low cost of domain registration and website hosting, tourism businesses should consider an internet presence as being mandatory for their survival. The last thing they should be doing is wielding the cost-cutting axe to save a tiny $70 by killing off their website and effectively their entire internet presence.