For those using Melbourne's toll roads, there are a couple of tips or tricks motorists should be aware of.
1. Some small parts of the toll roads are free to use
The operators of CityLink (parts of the Monash Freeway and Tullamarine Freeway) and EastLink don't publicise this, but there are short stretches of their toll roads which are free to use, thus you won't need an electronic tag or be charged for using those sections.
For a toll-free journey on part of CityLink, enter the M1 at Punt Road or Cremorne Street, head eastwards, then exit at Church Street.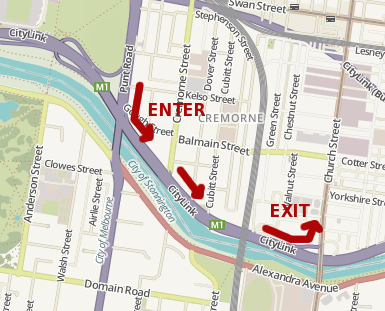 For EastLink, enter the M3 from Caribbean Park Drive at the service centre, head southwards and exit at Wellington Road for a toll-free journey.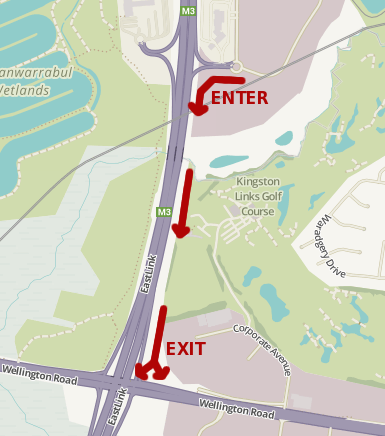 2. Use each toll road's trip cap to your advantage
Both CityLink and EastLink have trip caps.  This means that after accumulating a certain number of toll costs during an uninterrupted one-way journey, there are no additional costs to pay when driving in the same direction further along the toll road.
These trip caps can save you money as it may be more economical to use one toll road for longer journey (thus reaching the trip cap) rather than combining shorter journeys across multiple toll roads.
For example, consider the journey from Melbourne's outer southern suburbs (Eg: Frankston) to the inner city.  There are two options:
Travel north along the toll road EastLink (

M3

), then at Dandenong North enter the Monash Freeway (

M1

) which then becomes the toll road CityLink as it runs south of the city centre.
Travel north along the toll road EastLink (

M3

) which then heads west and becomes the Eastern Freeway which takes you to the inner northern suburb of Collingwood.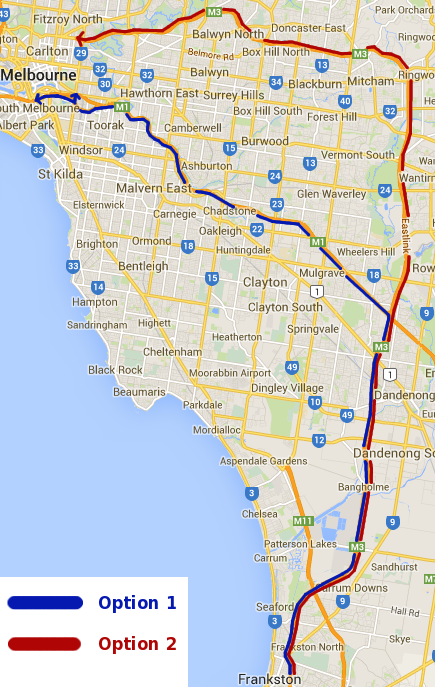 While the first option is of a shorter distance, it will cost more than the second option, because smaller sections of two separate toll roads are being used.
With the first option, you pay an EastLink toll of $4.37 plus a CityLink toll of either $4.24 to exit at Punt Road or $6.90 to Kings Way, taking the total toll cost to between $8.61 and $11.27.
With the second option, the EastLink trip cap is reached, so currently the journey will cost $5.69.  So this option saves you between $2.92 and $5.58.
In addition, EastLink offers a 20% discount on tolls for travel during weekends, so you can save even more by using EastLink instead of CityLink which offers no weekend travel discounts.