With the high proliferation of social media usage these days, any business that wishes to increase their market share needs a visible social media presence.
Facebook is currently the world's largest social network, having been first launched in 2004. For most businesses, Facebook should be at the top of the list when looking to increase exposure through social media.
A business page on Facebook prominently displays the number of "likes" by people visiting the actual page or its embedded feed on other websites.
Some business owners treat the number of Facebook likes as a status symbol whereby a large figure is a clear statement that not only is the business well-known, but that it is also much loved by the public. They also believe that an increasingly large number of likes will create snow-ball effect in terms of popularity, as visitors to the Facebook page will be impressed by the significant number of likes and feel that they too must join the masses and also like the page.
In order to increase the number of like on a business Facebook page, business owners may employ a number of methods. In terms of gaining popularity through use of the internet, owners can:
Include links to their Facebook page on their own website, thus providing an easy way for website visitors to also add to the tally of Facebook likes. This method is particularly effective for websites that receive a good number and diverse range of visitors.
Highlight their Facebook page through email postings, blog postings, or comments by their Facebook page on other Facebook pages.
Promote their Facebook page through Facebook's promotional services. If provided with a daily advertising budget, Facebook can target Facebook users whom it thinks might find a business page interesting, as well as allowing the business owner to restrict the promotion to a certain demographic. A "suggested page" box promoting the page will appear on Facebook for designated people, encouraging them to view and/or like that page.
Buy Facebook likes. There is a whole industry that is devoted to selling businesses Facebook "likes" in bulk for an insanely small amount of money. For example, one such service we came across promises to deliver 10,000 page likes for just $200. Using Facebook's official promotional services could typically cost 20 times that amount, or $4,000.
While buying Facebook likes from third parties may seem to be a great cost-effective solution to build up a business profile, it can either be a waste of money or cause a business credibility issues. This is because those bulk bought likes usually come from a massive pool of fake Facebook profiles that promoters have at their disposal. The actions of these fake Facebook accounts look even more dodgy when many are of a completely different demographic that would typically like a particular page. Would you really expect that a 70 year old grandmother from Iceland is going to like the Facebook page of a skateboard shop in Mildura?
The consequences for businesses buying artificial likes are:
It can put genuine people off liking that page. Since all these profiles are fake, there will be no further interaction on that business's page other than the initial like. Interested people visiting a Facebook page may be very suspicious of liking it if they see it has something like a staggering 50,000 likes with virtually no one liking or interacting with specific posts.
It does nothing for brand exposure. After all, exposing a business to tens of thousands of people who don't exist is pointless. They can't even tell their Facebook friends about it as they are fake too!
It won't generate any engagement with a target audience. A business may have some amazing photos or information to share on Facebook, but with no genuine people listening, what's the point?
No generation of leads or sales. Fake people don't buy things nor do they visit websites linked within Facebook postings. So if the ultimate aim of the business is to generate income, then marketing to fake people is not going to generate any return.
Many likes that were paid for may disappear overnight. Facebook regularly runs checks to weed out and remove likes by what it deems to be fake people. Businesses may be wasting money buying what ends up being very short term likes.
You can easily identify a business Facebook page that has built up most of its likes by purchasing likes in bulk from people that don't really exist.
Compare these two examples of Australian travel Facebook pages, illustrated below. They are business pages with a similar number of likes and regular daily postings. The big difference between those pages is the "people talking about this" figure which refers to the number of people actually engaged with that page and its postings.
In general, a page with a good level of engagement gets a figure of between 5% to 10% of the total number of likes. Anything beyond 10% is outstanding. In this first example, the engagement figure is 9.5% which is quite good. It appears to be a Facebook page which has been built up from a genuine and real user base with an ongoing interest, so the number of likes is a good representation of its popularity. In the second example, the ratio of engagements to likes is an appalling 0.2%.  You can be almost guaranteed that most of those likes are generated from fake profiles which have no interaction with the page other than the initial like.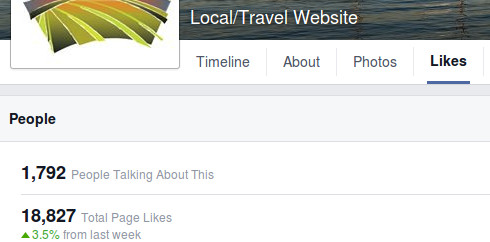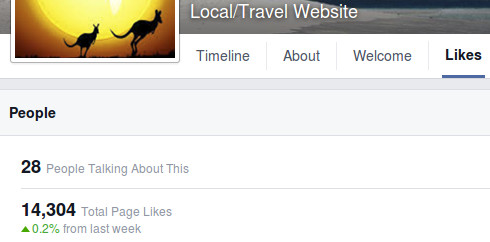 For businesses who want to increase their exposure on Facebook, don't bother with fake people and likes – after all, they cannot buy anything, they won't interact, nor can they spread the word to their friends. Facebook pages that are mainly made up with fake likes can be easily identified and may create a negative impression of that business. Businesses who want to build up a good Facebook profile should therefore only seek real likes by real people.