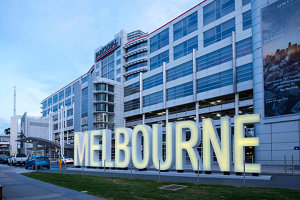 Melbourne Airport, also known as Tullamarine Airport, is located 19 kilometres north-west of Melbourne's central business district.  Once your flight lands at the airport, there are a number of transport options for getting to the city centre.
By bus: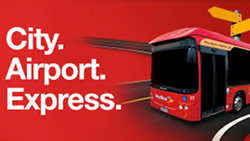 SkyBus operates a fleet of clean and comfortable airport buses which travel express from Melbourne Airport to Southern Cross Station in the city centre.
The SkyBus service operates 24 hours a day, 7 days a week. Departures are every 10 minutes from 6am to midnight. Between midnight and 6am, departures are either every 15 or 20 minutes.
On average, the journey on SkyBus takes 20 minutes. During morning and afternoon peak times, the average journey time is 30 minutes due to the extra traffic.
Reservations are not required on SkyBus. Simply buy your tickets online or at the SkyBus ticket booth located at Melbourne Airport or Southern Cross Station. Tickets are valid for 3 months from the date of purchase. The Myki smart card cannot be used on SkyBus.
SkyBus also operates a fleet of mini buses which can transport ticket holders from Southern Cross Station to a number of hotels in the city, free of charge.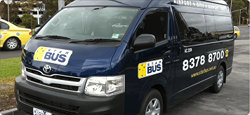 Alternatively, Star Bus operates a door to door service from Melbourne Airport to the city centre and its immediately surrounding inner suburbs from 6am to 6pm, 7 days a week. Unlike SkyBus, you won't need to change buses if you need to be dropped off somewhere specific.
By train:
There is currently no direct train or tram line between Melbourne Airport at the city centre. As such, SkyBus is the quickest and easiest way to travel between the airport and city by public transport.
If you really do want to use the train, catch the Craigieburn line train from Melbourne and get off at Broadmeadows station. Transfer to bus number 901 which is a SmartBus service that operates frequently between Broadmeadows Station and Melbourne Airport. Allow least one hour for this entire journey, keeping in mind that there are no train or bus services between Melbourne and Broadmeadows from just after midnight to about 5am during weekdays.
By taxi:
Designated taxi ranks are located at Melbourne Airport, on the ground floor in front of each terminal. The taxi fare from the airport to Melbourne's city centre is approximately $60.
You can pre-book a taxi to pick you up from the airport. The driver will park in the short term car park and will meet you at the baggage carousel, where you will be then escorted to the waiting taxi.
By chauffeur:
Travel in style between Melbourne Ai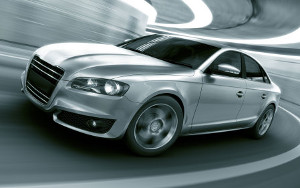 rport and the city, with the option of being dropped off directly at your city hotel.
Let Royale Limousines take the hassle out of getting to and from Melbourne Airport in one of their chauffeur driven standard or luxury vehicles.
Once you experience a chauffeur service, you'll never want to drive yourself to the airport again!
By hire car:
Six major car rental companies operate at Melbourne Airport. Avis, Budget, Europcar, Hertz, Thrifty and Redspot have information desks at the domestic terminals with car pick-ups available from their offices located in the short term car park at the front of the airport.
Melbourne Airport is located 20 kilometres by road from the heart of Melbourne.
The most direct route, which avoids toll roads, will take 25 minutes if there are minimal traffic delays. Travel via the Tullamarine Freeway (M2), exit at Bulla Road (metro route 37) which then becomes Mt Alexander Road and Flemington Road as it heads into the city centre.
Alternatively, take the Tullamarine Freeway (M2) and travel along the western section of the CityLink toll road. This will take less than 20 minutes assuming there is no significant congestion. Hire car companies have procedures in place whereby you can be automatically billed for using the vehicle on any toll roads.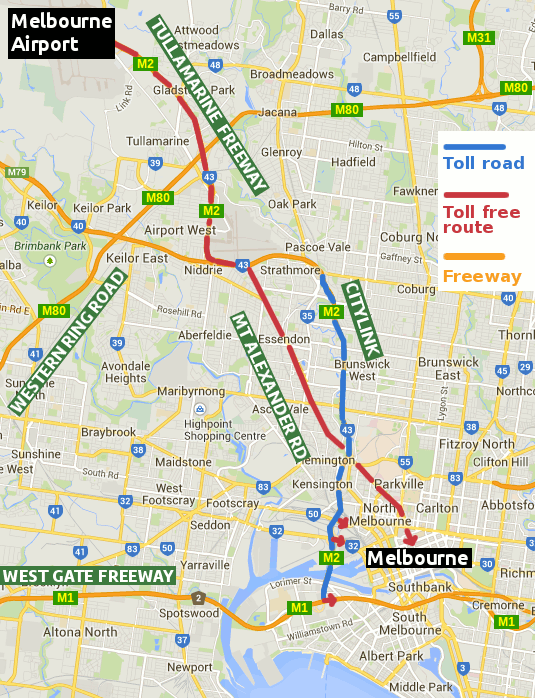 By air: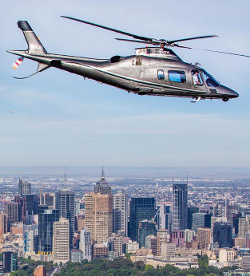 Heli-Express offers a helicopter service from Melbourne Airport to the city.
Passengers are greeted at Melbourne Airport and are chauffeur-driven for 2 minutes to the nearby heliport where they board a luxury twin-engine Agusta helicopter. The flight time is just 4 minutes, with passengers being dropped off at a Yarra River heliport. Complimentary refreshments are served in the passenger lounge, where connecting transport can be arranged.
The helicopter service operates during daylight hours with between 2 and 6 passengers per flight.