Accommodation businesses operating within the Great Ocean Road region in Victoria have been on the receiving end of a false billing scam. It has been operating since 2012, resulting in bills being sent out for unauthorised advertising on a tourism website.
Invoices are being sent out by Holiday Great Ocean Road for advertising on the www.holidaygreatoceanroad.com website.  A sample of a typical invoice they post out in the mail is shown below.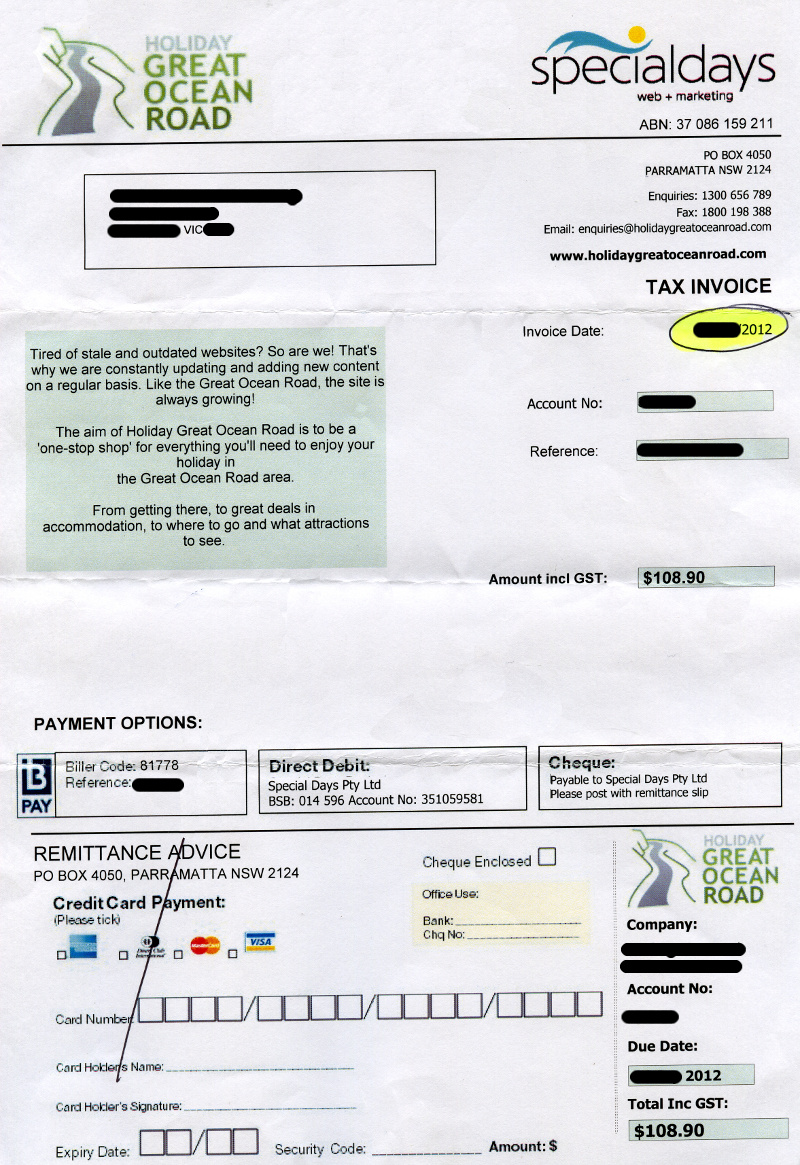 Note the key characteristics of this invoice:
It originates from a company titled Special Days Pty Ltd which is based in Sydney
The company's ABN is 37 086 159 211
Their postal address is PO Box 4050 Parramatta NSW 2124
Their billing enquiry phone number is 1300 656 789
Their FAX number is 1800 198 388
The invoice amount is $108.90 (i.e. $99 plus GST)
The advertising commencement date, conclusion date or duration is not stated
In order to convince the recipient of its authenticity, the "reference" box states the name of who has apparently authorised the listing, usually without a surname
Most people who receive an invoice like this never actually signed up for a listing with Holiday Great Ocean Road.  The first they find out about it is when a bill arrives in the mail. If they ignore the bill, they may receive more of the same invoices in the future.
Despite the fact an advertisement on Holiday Great Ocean Road has usually never been ordered by the recipient of the invoice, a cover letter is included which includes the following claims:
"I emailed you several times and phoned your business but I was unable to get a  response."  This statement is generally false as most accommodation providers have never been contacted by phone or email prior to the invoice arriving in the post.
"Once the listing is deleted you can lose your ranking on holidaygreatoceanroad.com for key words as well as your Google ranking as the site is optimized for your establishment."  This is a very misleading claim. Firstly, the www.holidaygreatoceanroad.com website receives so few visitors (not even Alexa.com has any data for it at the moment) so it is unlikely that a listing, or lack of one, will make any difference to a business. Secondly, because www.holidaygreatoceanroad.com is so poorly ranked in Google, there is only minuscule Google ranking value provided in the form of a link to an accommodation provider's own website.
Accommodation listings on the Holiday Great Ocean Road website are typically created by copying information, including wording and photos, found on other websites that an accommodation provider is listed on.  This process may be automated which means vast numbers of listings can be created with very little time and effort. If this data collection process occurred a long time ago, it may mean information they are displaying can be quite out of date. This may negatively impact upon your business or mislead people who do happen to view your listing on the Holiday Great Ocean Road website.
Unfortunately, some accommodation providers have paid the invoice for advertising they never ordered due to confusion over business names. The Holiday Great Ocean Road / www.holidaygreatoceanroad.com name and website address may be confused with a well-established business with exactly the same name but different website address – Holiday Great Ocean Road / www.holidaygor.com.au. It must be stated that the latter (www.holidaygor.com.au) is an award-winning and reputable accommodation booking service which has operated with the utmost of integrity since its commencement in 2002.
It is extremely important that accommodation providers keep current list of all organisations they are advertising their accommodation with to ensure that any false bills, particularly those with similar names to reputable businesses, are quickly identified. Should there is any doubt about the authenticity of a bill, contact the sender and ask for proof of authorisation.
For more information refer to the false billing scams information page on the ScamWatch website which has been set-up by the Australian Competition & Consumer Commission (ACCC).
If you've unintentionally paid money to Holiday Great Ocean Road, or even if you just receive one of their unauthorised bills in the mail, you can lodge a report with the ACCC by visiting their report a scam page.  Specify "false billing" as the scam type in your report.