A new false billing scam is actively targeting those who manage accommodation properties in Victoria. Bills are being posted out for unauthorised advertising on a website which bears a name very similar to Tourism Victoria – Victoria's official tourism body.
Unauthorised bills are being sent out by VIC Tourism for advertising on the www.victourism.com.au website.  Below is a sample of an invoice they post out in the mail to many accommodation businesses.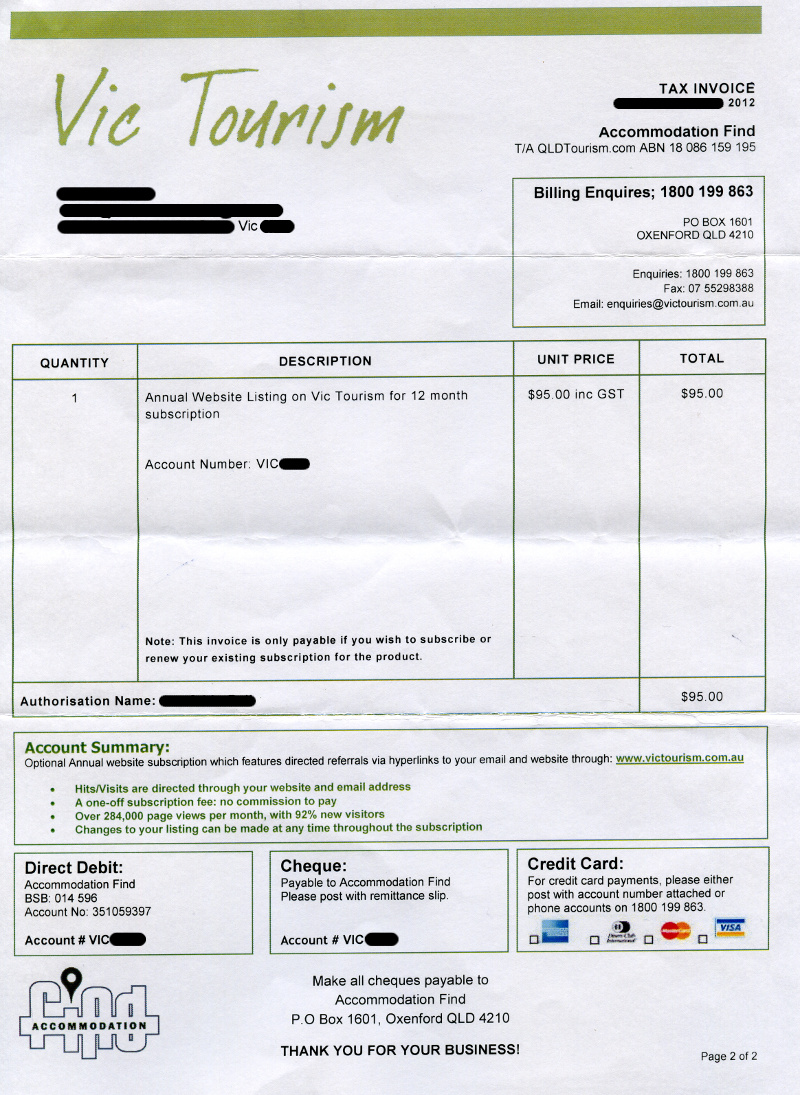 Note the key characteristics of this invoice:
It originates from a company titled Accommodation Find which trades as QLDTourism.com and is located in Queensland
The company's ABN is 18 086 159 195
Their postal address is PO Box 1601 Oxenford QLD 4210
Their billing enquiry phone number is 1800 199 863
The invoice amount is $95.00
The advertising period is not specified, just the vague mention of a "12 month subscription"
In order to convince the recipient of its authenticity, there is a box titled "authorisation name" that specifies the name of who has supposedly authorised the listing, usually without a surname
To ensure that in the eyes of the law this tax invoice is regarded an optional invitation to advertise, there is wording on the invoice which states "this invoice is only payable if you wish to subscribe or renew your existing subscription for the product".
Most people who receive an invoice like this never actually signed up for a listing with VIC Tourism.  The first they find out about it is when a bill arrives in the mail. If they ignore the bill, they may receive subsequent invoices at regular intervals in the future.
Accommodation listings on the VIC Tourism website are typically created by copying information, including wording and photos, found on other websites that an accommodation provider is listed on.  This process may be automated which means vast numbers of listings can be created with very little time and effort. If this data collection process occurred a long time ago, it may mean information they are displaying can be quite out of date. This may negatively impact upon your business or mislead people who do happen to view your listing on the VIC Tourism website.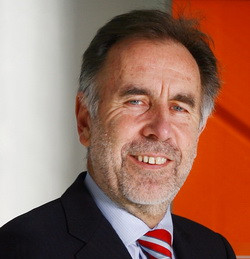 The way the advertising bills have been sent out has convinced some accommodation providers into thinking that VIC Tourism is the Victorian government's official tourism organisation Tourism Victoria. This has resulted in some people paying the bill because they believe they are registering their accommodation for world-wide exposure and endorsement through the state's official tourism body.
The chief executive officer of Tourism Victoria, Leigh Harry, has issued a strong warning through several media outlets to all businesses in Victoria to be on the look out for what he describes as "a dodgy letter and invoice" which seeks payment for an unsolicited 12-month listing on the unofficial and low-traffic Vic Tourism website.  Mr Harry has warned that the letters and invoices being sent out by Vic Tourism are "a scam", and they are not related in any way whatsoever to Victoria's official tourism organisation.
It is critically important that all accommodation providers keep an accurate list of all organisations they advertise their accommodation with. This ensures that any false bills, particularly those with names very similar to official organisations, are quickly identified. If there is any doubt about the authenticity of a bill, contact the issuer immediately and ask for proof of authorisation.
For further information, refer to the false billing scams information page on the ScamWatch website which has been set-up by the Australian Competition & Consumer Commission (ACCC).
If you have inadvertently paid money to VIC Tourism, or even if you just receive one of their unauthorised bills in the mail, you can lodge a report with the ACCC by visiting their report a scam page.  Specify "false billing" as the scam type in your report.