A false billing scam which began in 2010 is still targeting accommodation providers in Victoria. It involves sending out bills for unauthorised advertising on a travel website.
The unauthorised bills are sent out by Accommodation VIC for advertising on the www.accommodationvic.com.au website.  Refer below to a sample of the invoices they post out in the mail to accommodation businesses.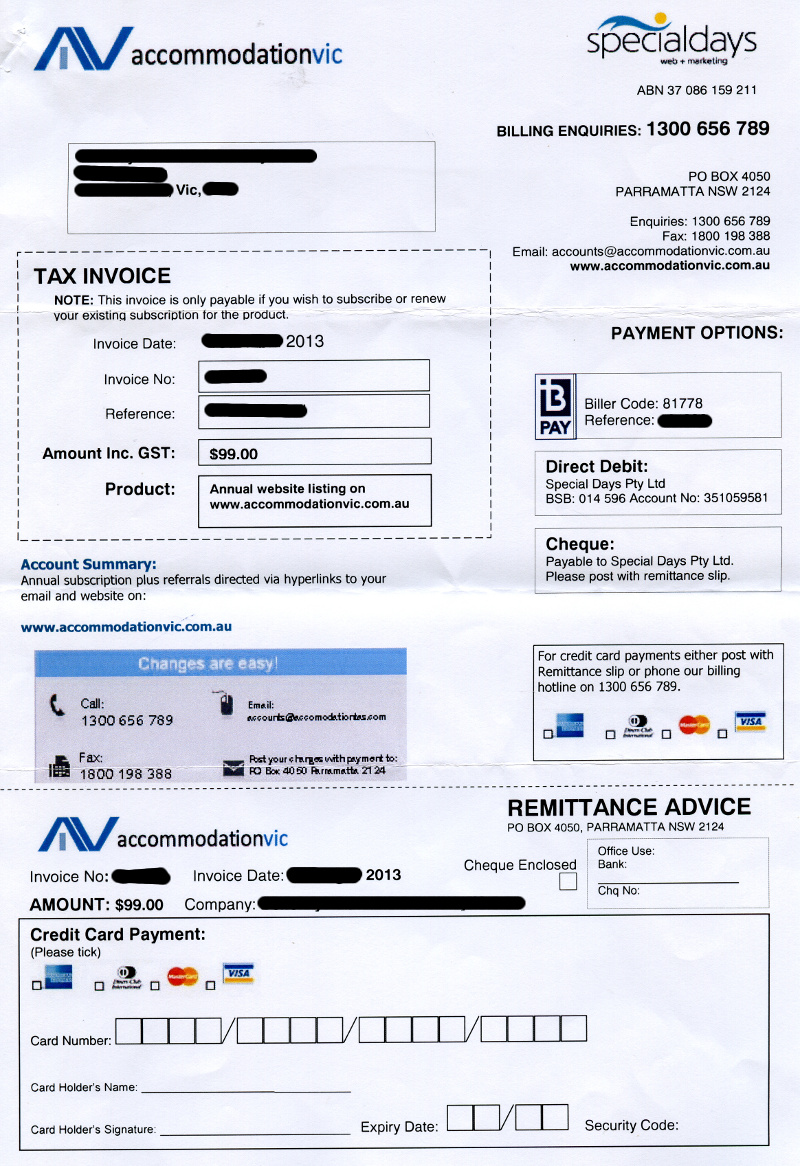 Note the key characteristics of this invoice:
It originates from a company titled Special Days Pty Ltd which is based in Sydney
The company's ABN is 37 086 159 211
Their postal address is PO Box 4050 Parramatta NSW 2124
Their billing enquiry phone number is 1300 656 789
Their FAX number is 1800 198 388
The invoice amount is $99.00
The advertising period is not stated, just a mention of an "annual website listing"
In order to convince the recipient of its authenticity, the "reference" box lists the name of the person who has apparently authorised the listing, usually without a surname
In order to legally disguise this tax invoice as an optional invitation to advertise, there is wording on the invoice which states "this invoice is only payable if you wish to subscribe or renew your existing subscription for the product".
Most people who receive an invoice of this type have never signed up for a listing with Accommodation VIC.  The first they find out about it is when a bill arrives in the mail. If they ignore the bill, they will typically receive another one sometime in the future, despite the fact wording on the letter attached to the bill states that the listing "automatically expires if unpaid".
It has been reported that at least one business who actually did end up paying the $99 annual listing fee then received another bill in the mail only 6 months later for another $99. As there are no starting and ending dates for the listing period specified on the invoice, just vague wording of an "annual website listing", it is unclear exactly what period the listing fee covers.
Accommodation listings on the Accommodation VIC website are typically created by copying information, including wording and photos, found on other websites that an accommodation provider is listed on.  This process may be automated which means vast numbers of listings can be created with very little time and effort. If this data collection process occurred a long time ago, it may mean information they are displaying can be quite out of date. This may negatively impact upon your business or mislead people who do happen to come across your listing on the Accommodation VIC website.
Some people simply pay the bill they receive because:
They have recently taken over the business.

When the bill arrives, they assume the advertising must have been ordered in the past by the previous owners and therefore the listing is effective and good value.

The website name is similar to one that they currently list with.

  In the confusion, they simply pay it, wrongly assuming it's their authorised advertiser.
They are too busy to spend much time investigating it.  Given that the bill is for a relatively small sum, they decide it is more cost-effective just to pay it and get it out of the way rather than conduct an extensive assessment of it.
Competition with other accommodation listed. If other accommodation in their local area is displayed on the www.accommodationvic.com.au website, they may feel pressured to keep the listing.  However it is important to realise that not only are many of listings on Accommodation VIC unauthorised, but that website receives only a small number of visitors compared to other similar websites.
It is important that accommodation providers keep an up to date list of all organisations they have advertised their accommodation with to ensure that any unauthorised bills are quickly detected. If there is any doubt about the authenticity of a bill, simply contact the issuer and ask for proof of authorisation.
For more information refer to the false billing scams information page on the ScamWatch website which has been set-up by the Australian Competition & Consumer Commission (ACCC).
If you've unintentionally paid money to Accommodation VIC, or even if you just receive one of their unauthorised bills in the mail, you can lodge a report with the ACCC by visiting their report a scam page.  Specify "false billing" as the scam type in your report.