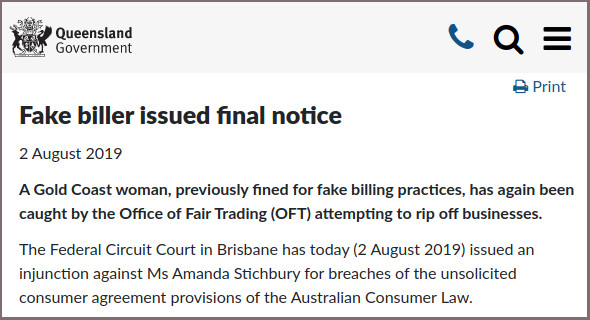 Many business owners, particularly those in the travel and tourism industry, will be familiar with the long running false billing scam perpetrated by Amanda Stichbury – director of the companies Special Days Pty Ltd, Accommodation Find Pty Ltd and Internet Find Pty Ltd.
How the scam originally functioned was that business owners would receive what looked like a renewal invoice in the post or via email for advertising on websites which they never ordered. Some of those websites had similar names to official government or tourism websites, which was a source of great confusion to many receiving the bills.
While the actual advertisements did exist on the websites stated, they were not authorised nor ordered by most of the business owners.
In 2014, the Office of Fair Trading (OFT) in Queensland achieved successful court action against Amanda Stichbury after many years of business owners being inundated with bills for advertising they never ordered. Amanda Stichbury and her companies were fined almost $20,000 with convictions recorded. At the time, the OFT described the business activities of Amanda Stichbury as being "based almost entirely on deception" and "preying upon time-poor businesses".
In 2017, Amanda Stichbury was fined a further $50,000 and convicted on a total of 166 charges in relation to sending invoices for unsolicited services and for making false and misleading representations. This related to businesses receiving notices stating their existing listing on certain websites had expired and they would need to renew them. These notices implied a previous business relationship which was false.
In 2019, the Office of Fair Trading in Queensland yet again successfully prosecuted Amanda Stichbury in the Federal Circuit Court for "breaches of the unsolicited consumer agreement provisions". An injunction has been issued against Amanda Stichbury which permanently prevents her from directly or indirectly engaging in this conduct in the future, anywhere in Australia. Should she breach this injunction, she may be jailed.
The acting executive director of the Office of Fair Trading in Queensland, Craig Turner, slammed the long running business practices of Amanda Stichbury, declaring that "behaviour like Ms Stichbury's has no place in Australia."
Despite the recent court action, tourism businesses around Australia are still receiving emails originating from Amanda Stichbury and her companies. The latest is from Accommodation Find (accommodationfind.com) claiming that a business listing has been deactivated, thus resulting in lost bookings, and requiring it to be reactivated. This process leads to a page with typically outdated information about a business and a request to update it. It appears there is then a $99 annual fee to pay, however businesses that don't claim their listing don't appear to get removed. See below for an example of such an email.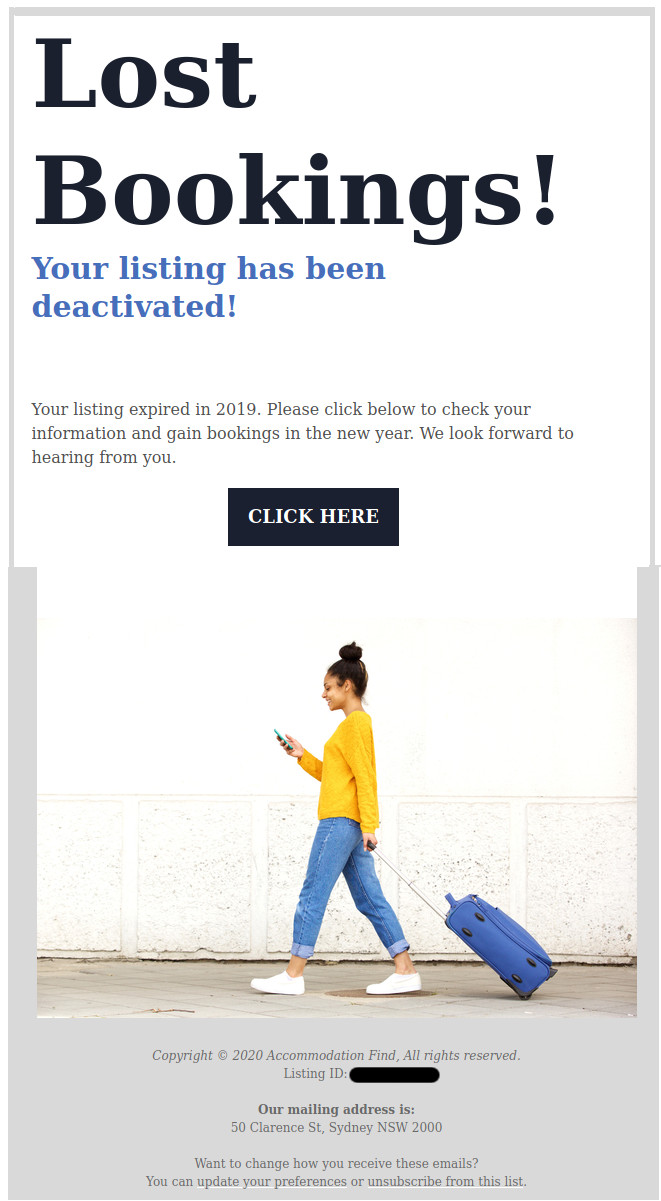 If you receive an unsolicited request to claim a listing you never ordered and then to pay for it, you can lodge an official complaint with the Office of Fair Trading in Queensland at http://www.fairtrading.qld.gov.au/lodge-your-complaint
False billion scams are of course not new – they have been going on for many years in Australia, costing businesses many millions of dollars. A number of perpetrators of false billing scams are so successful that court fines are simply treated by them as one of the basic costs of doing business, with revenue far exceeding any fines they may receive over time.
A collection of some Special Days Pty Ltd, Accommodation Find Pty Ltd and Internet Find Pty Ltd websites are listed below. Businesses may receive unsolicited listing renewal requests from any of these.
Accommodation Adelaide – www.accommodationadelaide.net.au
Accommodation Airlie Beach – www.accommodationairliebeach.com
Accommodation Australia – www.accommodationaustralia.com.au
Accommodation Broome – www.accommodationbroome.com
Accommodation Cairns – www.accommodationcairns.net.au
Accommodation Find – www.accommodationfind.com
Accommodation Gold Coast – www.accommodationgoldcoast.com.au
Accommodation in Bendigo – www.accommodationinbendigo.com
Accommodation Melbourne – www.accommodationmelbourne.com.au
Accommodation New Zealand – www.accommodationnewzealand.com
Accommodation NT – www.accommodationnt.com
Accommodation Perth – www.accommodationperth.com.au
Accommodation Search – www.accommodationsearch.com.au
Accommodation Sunshine Coast – www.accommodationsunshinecoast.net.au
Accommodation Sydney – www.accommodationsydney.net.au
Accommodation VIC – www.accommodationvic.com.au
Aged Care Find – www.agedcarefind.com.au
Attractions – www.attractions.net.au
Attractions Brisbane – www.attractionsbrisbane.com.au
Attractions Melbourne – www.attractionsmelbourne.com
Attractions Perth – www.attractionsperth.com.au
Australia Private Schools – www.australiaprivateschools.com
Brisbane Private Schools – www.brisbaneprivateschools.com
Broome Tourism – www.broometourism.com
Builder Melbourne – www.buildermelbourne.com
Byron Bay Accommodations – www.byronbayaccommodations.com
Caravan Park Accommodation – www.caravanparkaccommodation.com
Car Rental – www.carrental.net.au
Childcare – www.childcare.net.au
Childcare Sydney – www.childcaresydney.com
Click Find – www.clickfind.com
Church Find – www.churchfind.com.au
Coolangatta Guide – www.coolangattaguide.com
Dentist Find – www.dentistfind.com.au
Dentist in Melbourne – www.dentistinmelbourne.com
Education Directory – www.educationdirectory.com.au
Education NSW – www.educationnsw.com.au
Education QLD – www.educationqld.com.au
Education VIC – www.educationvic.com.au
Education WA – www.educationwa.com.au
Find Chemist – www.findchemist.com.au
Golf Find – www.golffind.com.au
Great Ocean Road Tourism – www.greatoceanroadtourism.com
Hairdresser Find – www.hairdresserfind.com.au
Holiday Gold Coast – www.holidaygoldcoast.com
Hotel Find – www.hotelfind.com.au
How Local – www.howlocal.com
Hotel VIC – www.hotelvic.com.au
Lightening Ridge Tourism – www.lightningridgetourism.com.au
Mackay Tourism – www.mackaytourism.com.au
Melbourne Accountant – www.melbourneaccountant.com
Melbourne Hairdresser – www.melbournehairdresser.com
Melbourne Schools – www.melbourneschool.com
Melbourne Tourism – www.melbournetourism.net.au
New South Wales Tourism – www.newsouthwalestourism.com
Perth Private Schools – www.perthprivateschools.com
Pubs and Clubs – www.pubsandclubs.com.au
Pubs Melbourne – www.pubsmelbourne.com
QLD Tourism – www.qldtourism.com
Redcliffe Tourism – www.redcliffetourism.com
Restaurant Brisbane – www.restaurantsbrisbane.com
Restaurant Find – www.restaurantfind.com.au
Restaurant Gold Coast – www.restaurantsgoldcoast.com
Restaurant Guide – www.restaurantguide.net.au
Search Accommodation – www.searchaccommodation.com
South Australia Guide – www.southaustraliatravel.com.au
Sunshine Coast Tourism – www.sunshinecoasttourism.com.au
Sydney Private Schools – www.sydneyprivateschools.com
Sydney Tourism – www.sydneytourism.com.au
Tourism Adelaide – www.tourismadelaide.com.au
Tourism Brisbane – www.tourismbrisbane.com.au
Tourism Caloundra – www.tourismcaloundra.com.au
Tourism Canberra – www.tourismcanberra.com
Tourism Cairns – www.tourismcairns.com.au
Tourism Gold Coast – www.tourismgoldcoast.com.au
Tourism Guide – www.tourismguide.com.au
Tourism Listing – www.tourismlisting.com
Tourism Tas – www.tourismtas.com.au
Tourism WA – www.etourismwa.com.au
Townsville Tourism – www.townsvilletourism.com.au
Travel Agents Melbourne – www.travelagentsmelbourne.com
Travel Guide – www.travelguide.net.au
Vet Australia – www.vetaustralia.com
Vet Melbourne – www.vetmelbourne.com.au
Victoria Tourism – www.victoriatourism.com.au
VIC Tourism – www.victourism.com.au
Whitsundays Accommodation – www.whitsundaysaccommodation.com
Whitsundays Tourism – www.whitsundaystourism.com.au
References
Fake biller Amanda Stichbury issued final notice
Queensland Office of Fair Trading
https://www.qld.gov.au/law/laws-regulated-industries-and-accountability/queensland-laws-and-regulations/fair-trading-services-programs-and-resources/fair-trading-latest-news/media-statements/fake-biller-issued-final-notice
Fake biller Amanda Stichbury allegedly fleecing businesses again
My Business
https://www.mybusiness.com.au/finance/6063-fake-biller-allegedly-fleecing-businesses-again
Companies referred to in the Queensland Office of Fair Trading court action
Special Days Pty Ltd
ABN – 37 086 159 211
ACN – 086 159 211
Accommodation Find Pty Ltd
ABN – 18 086 159 195
ACN – 086 159 195
Internet Find Pty Ltd
ABN – 68 162 430 159
ACN – 162 430 159
Contact phone number of these companies – 1300 656 789 and/or 1800 199 863.