Over the last few years, there has been a push in the Australian travel and tourism industry to encourage travellers to book their accommodation directly with the property owner or manager, rather than through an online booking agent. The advantages in doing so include:
Cheaper rates
Dealing directly with the provider makes it easier to reserve a particular room, satisfy any special requirements you may have, and handle cancellations or rescheduling directly
Instead of booking commissions (typically between 15 to 30 percent) being paid to overseas online travel agents, those commissions are retained by property owner, thus helping the local economy
Those booking direct may receive bonuses to reward them for this, such as free breakfast or free vehicle parking.
While booking accommodation directly has many benefits, let us consider just the cost of the room and conduct a small experiment with online booking rates. Note that booking over the phone directly with a property may offer better rates, but for the purposes of this experiment, we shall limit ourselves to online booking only, either directly with the property's own reservation system or an online travel agent like Booking.com.
We shall try booking three very different holiday properties in Victoria on a weekend for two nights, from Friday 17th May to Sunday 19th May. We have chosen:
A 5-star Melbourne city hotel with luxury rooms
A family beach resort that offers holiday apartments
A romantic mountain cottage retreat for couples
Luxury hotel – The Langham Melbourne
The Langham Hotel in Melbourne is one of the city's most exclusive hotels and is consistently ranked by Tripadvisor as one of the top places to stay in the city, where opulence meets unparalleled service. It is situated in Southbank, across the Yarra River from Melbourne's CBD.
Choosing a superior king room for two adults, we were quoted a total of $740 ($370 per night) when using the hotel's own reservation system on their official website. Choosing to book the same room via booking.com gave the exact same quote – $740.
The verdict: same cost whether booking online direct or through an online travel agent.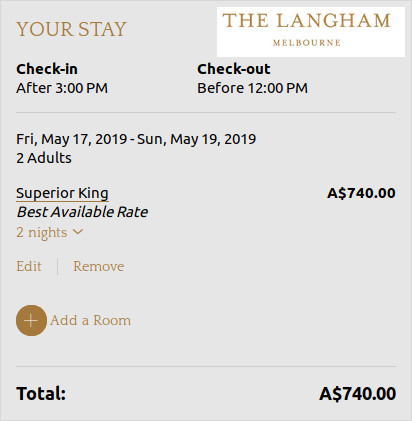 Family beach resort – Silverwater Resort
One of Victoria's most loved beach holiday destinations is Phillip Island. It is close enough to Melbourne to be within an easy drive, and far enough out of the city to feel like you are really on holiday.
The gateway to Phillip Island is the tourist town of San Remo, which is located at the start of the bridge which goes across the water to Phillip Island. There are several cafes, restaurants and hotels in the town, and some lovely beaches in the area. However, the town is most famous for the daily pelican feeding on the main beach, near the jetty.
One of the most family friendly places to stay at San Remo is Silverwater Resort. Spread out across this large property are 170 resort rooms and self-contained apartments. The resort's many on-site facilities include an indoor and outdoor pool, tennis courts, jumping pillows, games room, gymnasium, extensive grounds to explore and a bar and restaurant.
We have chosen a two bedroom apartment for a family of four – 2 adults and 2 children. Going through the reservation system on the resort's official website, the total cost for two nights was quoted at $526. Using booking.com, this was reduced down to $518.
Why is there an $8 difference? If you use an online booking website, they generally absorb credit card fees. However, if you book direct with Silverwater Resort, they charge you the credit card fees on top of the cost of the accommodation which is priced at the same rate at booking.com. It is quite surprising that Silverwater Resort is happy to give 15 to 30% of their revenue (between $77 and $155 for this specific booking) to booking.com, yet if you bypass the booking agent and book directly with them, thus meaning the resort gets to keep the $77 to $155 booking fee, they actually penalise you for this act of generosity and make you pay an $8 credit card fee.
The small print on the booking page explains the credit card fee if you book online directly with the property. "Payments made with with Visa or Mastercard will incur a 1.5% surcharge, and Amex will incur a 3% surcharge. This surcharge is not displayed on your reservation it is added automatically when your credit card is processed."
The verdict: go through booking.com for a better rate than booking directly, due to the credit card fee.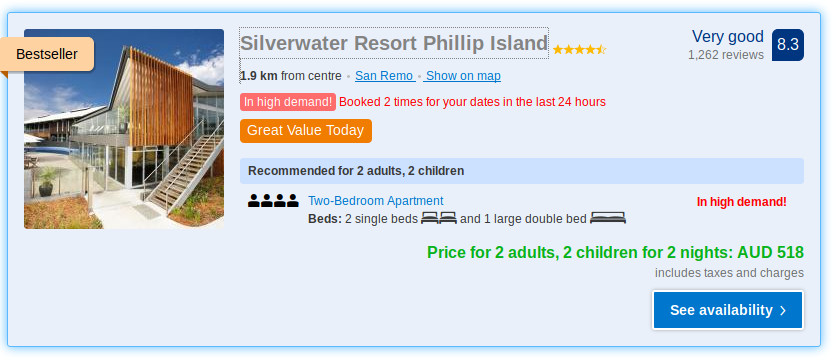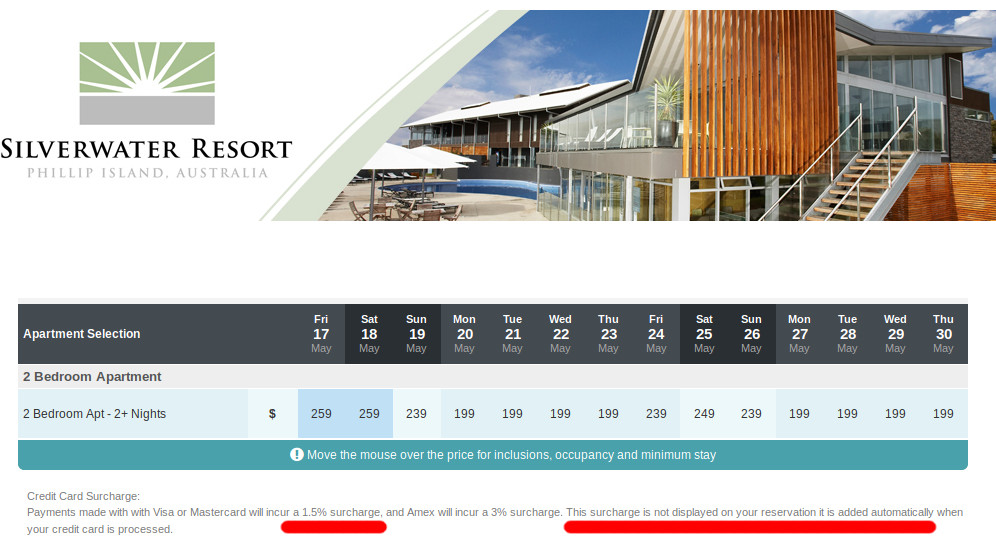 Mountain retreat – Forest Edge Cottage
For those looking for seclusion and privacy in the mountains, but not too far from Melbourne, then Mount Dandenong is a great choice. Less than an hour's drive from the city centre, the lush Dandenong Ranges are home to a number of romantic holiday cottages and we have chosen Forest Edge Cottage which is part of the Merrow Cottages group. This private holiday rental is suitable for couples and is an excellent weekend getaway.
The managing booking agent for this property quotes a weekend stay at $620 ($310 per night). However, the rate on booking.com is significantly more, coming in at $700 for the weekend, or $350 per night.
The verdict: book direct with the property for a much better rate than with online booking agents.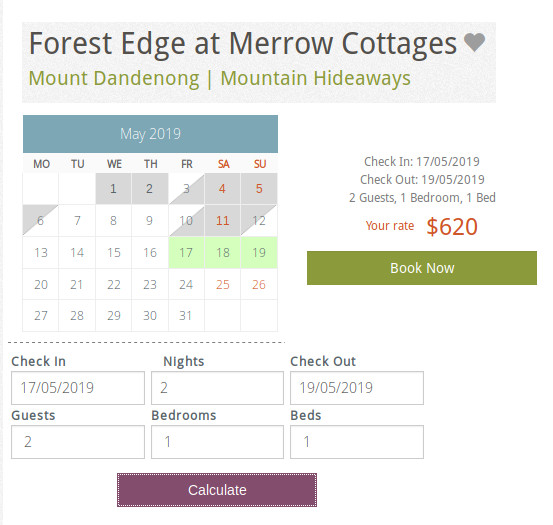 The verdict
Whether you book online directly with the property, or whether you use a third party online travel agent booking service like booking.com, the cost may sometimes vary. This depends specifically on the accommodation property chosen. Booking directly with the property may be cheaper in some cases, but in other cases it actually may be slightly dearer.
To encourage direct bookings, we urge all property owners to ensure those booking through their official website and booking system are offered the same or cheaper rates than they advertise through third party online travel agents.