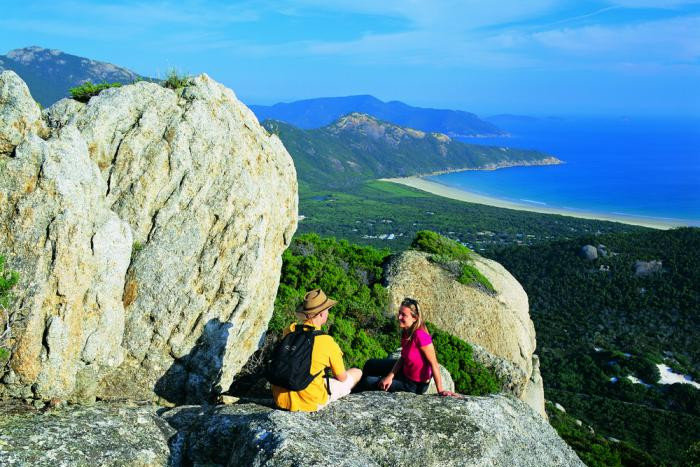 Wilsons Promontory is a peninsula at the southernmost tip of of Victoria that is surrounded by water on three sides and extends into Bass Strait.
The Wilsons Promontory National Park covers around 50,000 hectares of this peninsula, consisting of stunning granite mountain peaks, beautiful beaches, lakes, forests and gullies.  It is home to a large population of wildlife including kangaroos, emus, echidnas, wombats and birdlife.
Within the national park is the small town of Tidal River which has a visitor centre, general store and cafe.
In order to get to Wilsons Promontory, there are a number of transport options available.
By car
One of the best ways of getting to Wilsons Promontory is to drive, so you have the flexibility of stopping at a number of interesting spots along the way.
The driving distance from Melbourne's CBD to the Wilsons Promontory town of Tidal River is just over 220 kilometres.
Follow the Monash Freeway (M1) away from the city.  In order to get to the South Gippsland Highway, you can either take the South Gippsland Freeway (M420) exit, the Clyde Road (C407) exit, the Cardinia Road exit or the Koo Wee Rup Road (C422) exit.  All of those roads will eventually meet the South Gippsland Highway (M420) where you will need to turn left.  Follow the highway past the turn-off for Lang Lang until you reach the exit labelled Korumburra, Leongatha and Wilsons Promontory.  You will need to take this exit to remain on the South Gippsland Highway (A440), otherwise you will find yourself on the Bass Highway heading towards Phillip Island and Wonthaggi.
Stay on the South Gippsland Highway as you pass through the towns of Korumburra, Leongatha and Meeniyan.  On the outskirts of Meeniyan, turn right onto Meeniyan-Promontory Road (C444) and follow this to Fish Creek where you will need to make a right turn in order to stay on the Meeniyan-Promontory Road (C444).  This road passes through Yanakie, which is located 6 kilometres from the entrance to Wilsons Promontory National Park.  Once inside the park, it is a further 25 minutes drive to Tidal River.
The entire journey normally takes around 2 hours and 50 minutes if driving non-stop, although it is recommended to take at least a short break due to the duration of the trip.
By public transport
The first step is to catch a bus to Fish Creek.  There is a V/Line bus service which runs between Southern Cross Station in Melbourne and Yarram, stopping at Fish Creek in front of the Fish Creek Hotel and BP service station.  This bus service runs 7 days a week, with extra services on weekdays.  See the V/Line bus timetable to Yarram via Fish Creek.
Once in Fish Creek, a taxi or private transport service will be required for the final 55 kilometres of the journey to Tidal River as there are no public bus services to Wilsons Promontory.  Options include:
Butterfly Passenger Service.  This is a private driver hire transport service that is based in Foster and covers South Gippsland.  Operating 7 days a week, Butterfly Passenger Service offers reliable transport between Wilsons Promontory and connecting public transport services. Phone them on 0411 334 236 or visit their Facebook page.
South Gippsland Regional Taxis. Based in Leongatha, they cover South Gippsland and can do trips to Wilsons Promontory on request.  Bookings in advance are essential to ensure you have connecting transport from Fish Creek.  Phone them on (03) 5662 4242.
Join a tour
A hassle free way of getting to Wilsons Promontory and exploring its many natural attractions is by joining a guided tour that departs from Melbourne.
Bunyip Tours offer a full day excursion to Wilsons Promontory.  You are picked up from Melbourne early in the morning and return in the evening.  Your tour guide will take you on a number of activities which highlight the beauty of the area.  Enjoy bush walking, bird watching, wildlife spotting and even swimming if the weather and time permits.  See beautiful beaches, huge granite rock formations, eucalyptus forests and warm temperate rainforests.
For those who want to see more of the area, Bunyip Tours also offer a 2 day Wilsons Promontory excursion which is combined with a day at Phillip Island.  See stunning surf beaches, the Koala Conservation Centre, The Nobbies and of course the famous nightly penguin parade.  Overnight accommodation on the island is provided, then the next morning you are driven to Wilsons Promontory to explore the highlights of the park on foot by joining the regular day tour.
Coming from Melbourne Airport?
If you are coming to Melbourne by air, see our guide to transport between Melbourne Airport and the city centre.  Once in Melbourne's city centre, choose from the above options to get to Wilsons Promontory.