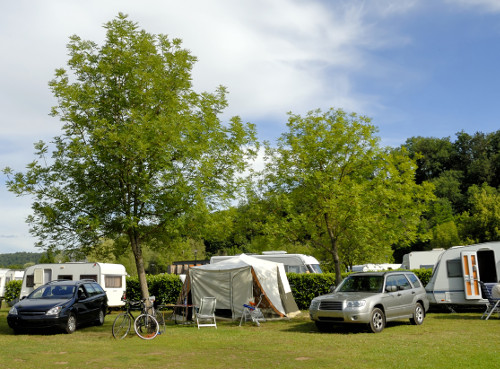 Some travellers seek holidays where they can truly charter their own destiny and who want to take their accommodation with them as they travel around Victoria. Caravans, campervans and motorhomes are an ideal option for this purpose.
Caravans
A caravan is a mobile home on a trailer, towed behind a vehicle. It is equipped with bedding and cooking facilities and many also feature a shower and toilet.
When travelling in Victoria with a caravan, you can stay overnight at designated camping areas with basic facilities, or pull into one of the state's hundreds of caravan or tourist parks. These parks vary widely in their facilities, but all provide, as a bare minimum, electric power connections, communal cooking and bathroom facilities. Some provide ensuite sites where your van is parked beside a private bathroom reserved for your use only.
Many caravan parks have developed into fully-appointed resorts set within landscaped grounds that also offer luxury cabin accommodation, a huge range of family-friendly recreational facilities and onsite activities for guests.
Locate caravan parks in Victoria by going to accommodation search and selecting caravan park in the preferred accommodation style box.
Campervans and motorhomes
Campervans and motorhomes are vehicles which provide transport and accommodation all in one.
A motorhome is typically built on a truck or bus chassis and provides fully self-contained and reasonably spacious accommodation including kitchen and bathroom facilities. A campervan is generally a smaller vehicle in the style of a van, a bit tighter on space, which is fitted out with basic living facilities.
Motorhome and campervan rentals range from budget to luxury and can sleep between 2 and 6 people. Motorhomes usually do not require anchor to a caravan park-type facility because they are fully self-contained, whereas some of the smaller campervans are more suited to the traveller who expects to end each day in a caravan or camping ground spot where they will find toilet and shower amenities that are not contained within their campervan sleeper.
Some campervan and motorhome hire companies which have depots in Victoria are:
If you're thinking about planning a campervan holiday, have a read of 101 Campervan Tips.