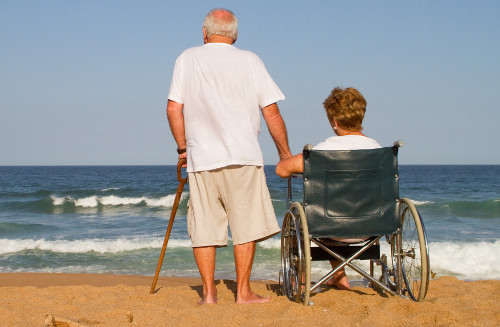 If you or your family have mobility impairments, there are a number of accommodation options throughout Victoria that may suit your needs.
Hotels and motels are often able to cater for disabled and wheelchair-bound visitors thanks to their modern layout, lifts and the use of ramps instead of stairs.  A growing number of larger hotels, motels and apartments will have certain rooms designed to accommodate those who may need extra space or aids.
One of the biggest issues for those seeking suitable accommodation is the huge variability in what is classified as "disabled access", "wheelchair accessible", or other similar terms. As such, it is always advisable to contact these establishments prior to making a booking to ensure that the facilities are suitable for your level of mobility and requirements.
When enquiring about room suitability, you may want to ask about:
Doorway widths – both internal and external
How easy doors are to open
The height of door handles and light switches
The height of the bed – some may be too high
Whether there is enough space on the side of the bed to permit you to easily get into it
Easy to reach hanging space in closets
Hand rails in the bathroom
Shower chairs and raised toilet seats
As well as enquiring about the suitability of the room you plan to stay in, you may also need to ask further questions about the property as a whole.  For example:
Is there suitable parking close by or designated disabled parking spots in a convenient location?
Can you access the reception area easily?
Are there automatic opening doors at the entrance and throughout the property?  This may be an issue for those who are travelling alone and don't have someone on hand to help them with heavy or large doors.
Is there elevator access to all public areas in multi-storey properties?  You may be able to easily get to your room, but you may not be able to easily get to some of the facilities if access is poor.
To find accommodation in Victoria which offers facilities for those with disabilities, go to accommodation search page on the Travel Victoria website and in the facilities section select disabled access along with other requirements you may have. This will list all establishments which can cater, to some extent, for guests with mobility impairments.  Don't forget that when enquiring or booking your accommodation, it is important to make mention of your specific access requirements to ensure the establishment is able to meet your needs.