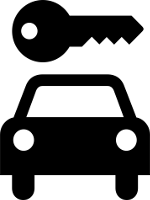 Victoria is a diverse state with a multitude of attractions in both Melbourne and the state's regional areas. When it comes to getting around, public transport isn't always able to take you everywhere, and it may not always be convenient.  So if you come to Victoria without your own vehicle, hiring a car is a good option to get the most out of your visit.
---
Arriving by air
Most people coming to Victoria by air will land at Melbourne Airport which is located around 20 kilometres north-west of the city. This is Victoria's only international airport and a major hub for domestic flights.
The major international hire car companies of Avis, Budget, Europcar, Hertz and Thrifty all have booking desks inside the airport terminal buildings, along with Australia's own Redspot.
Car hire depots are also located at several smaller regional airports in Victoria:
---
Arriving by boat
If you are coming to Melbourne by sea, you will dock at Station Pier in Port Melbourne. Most arrivals will be aboard the Spirit of Tasmania which is a passenger and car ferry that runs services to and from Tasmania on almost every day of the year and sometimes twice a day during peak season.
While there are no car hire depots located at Port Melbourne, cars can be hired from depots nearby which are easily reached either by taxi or public transport.
---
Arriving by train
There are two interstate passenger train lines that enter Victoria and extend to Melbourne. The Overland service runs between Adelaide and Melbourne while the XPT runs between Sydney and Melbourne. All these trains terminate at Southern Cross Station in Melbourne.
Car hire depots for Avis, Budget and Europcar are located at Southern Cross Station, while depots for other car hire companies are located very close by, either walking distance or a short tram or taxi ride away.
---
Getting the best deal
Most people don't have too much loyalty to car hire brands, so whoever offers the best deal which matches the renter's requirements will usually get the deal.
To save individually comparing rates between all the major car hire companies in Melbourne and Victoria, simply use the comparison tool below. Using your specified pick-up location and hire dates, it will display car hire availability from all the major providers.
---
Should you pick up a hire car from the airport or elsewhere?
For those arriving by air, obviously the most convenient option is to pick up your hire vehicle at the airport. Car hire check-in desks are located within the terminal building, and the car you book is waiting for you at one of the closest car parks, usually just a few steps away.
Airports are regarded by most car hire companies as premium locations, so you will end up paying extra for the convenience of picking up your vehicle there.  If you want to save a bit of money, compare the cost of picking up your hire vehicle at the airport with a location that is either convenient to where you are staying or easily accessible by public transport.  Particularly for long rental periods, the savings can be quite substantial, even when you factor in the cost of transport between the airport to the depot.
---
Will others be driving your hire vehicle?
It is important to consider whether people other than yourself will be driving the rental vehicle. This may be relevant if you are planning a trip away with your partner, family, friends or business associates.
Some hire car companies allow you to nominate additional drivers at no cost, while others will charge extra fees.
| Hire car company | Fees for additional drivers | Exemptions from fees |
| --- | --- | --- |
| Avis | None | – |
| Budget | None. | – |
| Europcar | $5.75 for each additional driver, capped at $28.75 for the whole rental period. | – |
| Hertz | $5.50 for each additional driver, capped at $27.50 for the whole rental period. | Immediate family members, employers or employees. |
| Redspot | $5.50 for each additional driver, capped at $33.00 for the whole rental period. | If the rate level you have selected is the "top dog" all inclusive rate. |
| Thrifty | $5.50 for each additional driver, capped at $27.50 for the whole rental period. | Corporate club and auto club members hiring vehicles pay no additional driver fees. |
What sort of insurance should you take?
All cars you hire are insured against accidents. They also include roadside assistance for use in emergencies.
If your vehicle is involved in an accident, you will need to pay an insurance excess fee, which can be several thousands of dollars depending on the type of vehicle and if it was a single vehicle accident.
As well as accidents, any damage you cause to the vehicle that requires repairs, such as windscreen or tyre replacement, will also need to be paid for.
Hire car companies usually offer add-ons whereby you can pay an extra daily charge to reduce or completely eliminate the cost you would normally occur in the case of an accident or vehicle damage. These add-ons can inflate the daily hire charge by up to 50%, so it is important to consider some economical options if you wish to avoid paying out large sums of money in the event of an accident or damage to the vehicle.
If you only have the vehicle for a day or two, the simplest and cheapest way may simply be to accept the hire car company's offer of paying more to eliminate excess charges.
If you are hiring a vehicle for more than a couple of days, a cheaper option is to take out independent travel insurance.  Most general travel insurance plans include hire car excess charges, although you will need to verify they will cover the full amount as they usually set a limit. In fact, you may already have travel insurance arranged for your trip, so why not take advantage of all its features, including coverage for hire car excess fees.
---
How to pay for toll roads
In Melbourne there are several toll roads which you may use during your travels. Fortunately you shouldn't have to worry about paying those tolls as vehicles hired through most hire car companies are registered with toll road operators.  This ensures you will be automatically billed for toll road usage.  This billing process will differ between hire care companies.
For Avis, Budget, Europcar and Thrifty, as well as incurring the actual cost of using a toll road, there is also a $3.30 daily service fee which is charged only on the days you use a toll road.
Redspot simply add a $1.43 fee to every toll charge you accumulate.  For a single trip in a day this is good value, but it can end up getting expensive if you make multiple toll road trips within a day. Note that when booking a vehicle, if you select the "top dog" all inclusive rate, then all toll road usage is covered an no additional cost.
Hertz operate quite differently and offer unlimited toll road usage with a fixed daily charge of $14.30 which applies to every day of rental period whether you use toll roads or not.  Alternatively, you can opt for an arrangement whereby you pay an upfront $16.50 administration fee and then you are automatically billed only for usage. This is recommended for longer term hiring or when you don't expect to use toll roads every day.
---
Fuel options
When picking up the vehicle, it will have a full tank of fuel. Three options are usually available when returning the vehicle.
Pay for a whole tank of fuel. This mean the hire car company assumes you will return the vehicle with an empty tank, so you will be charged for a full refueling, no matter how much is left. In reality, it is impossible to return a vehicle with not one drop of fuel left in it, so this can be an expensive option, particularly if you have a significant amount of fuel left in the vehicle, although usually the cost charged for a whole tank of petrol will be very competitive.
Pay a "fill up" charge.  You can return the vehicle with any amount of fuel left in the tank, and you will only be charged to fill it up. While this may seem an attractive option, the cost per litre and fill up charge will be much more than what it would cost for you to buy fuel yourself.
Return the vehicle with a full tank.  This is the cheapest option if you have the time, and if a petrol station is located not too far away from the car hire depot. That way you only pay for exactly the quantity of fuel you use.
---
Are you guaranteed to get the car you booked?
When looking at types of cars offered by the rental companies, they will tend to classify cars by their size, style, number of seats and luggage capacity by using terms such as "compact", "intermediate", "standard" or "full size".  They usually provide an illustration of an example car that fits that size.
It is important to note the clause that says "or similar". Car hire depots usually have various models within each category, so depending on availability, you can't be guaranteed to get exactly the model advertised.  If you do have a specific preference for a model or a vehicle colour, make the hire car company aware of that at the time of booking and they may be able to arrange it when you pick it up.
There are some vehicle models which you can be guaranteed to get when booking, but these are usually if you hire prestige or sports vehicles.