You know the familiar saying, "you only get what you pay for"…but does it always apply when you get something for free?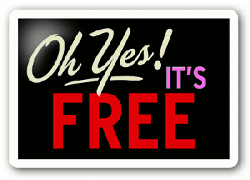 Here at Travel Victoria, for many years we've been offering free listings for tour or activity businesses within our tourism pages for locations throughout Victoria. There's no catch, just a brief listing with a link to your website, providing a stream of visitors who are interested enough to click the link and find out more.
Importantly, the free listings offered by Travel Victoria aren't buried deep within our website where few people will see them.  They are placed on pages which are directly linked to every page published about that location in Victoria. That's one click to get there, not 10. We'll let the results speak for themselves by examining how many views of the 5 most popular tour and activity pages have occurred during 2010:
So if you were one of the businesses listed on our Lakes Entrance tours & activity pages, your business listing (the name and brief description) would have been seen by 11,694 people in 2010.
Now here is where it gets really interesting. Even if only a tiny 5% of people looking at the page your business was listed on actually clicked the link to your website, you would have gained 585 free visitors to your website. And those are people who clearly had an interest in your business to bother to click on the link. Try getting that same number of targeted visitors by using something like Google AdWords. Depending on the keywords selected, bidding amounts and competition, it could cost you $500 per year or even much, much more, just to achieve the same results as a free listing with Travel Victoria.
Sometimes you do get what you pay for…but other times, you really do get much more. Advertise for free in selected categories on Travel Victoria today.