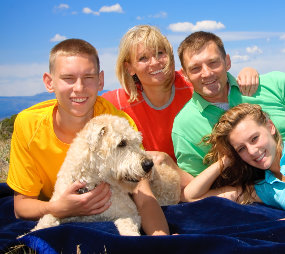 In the past, dog owners who wanted to go on holidays had little choice but to either leave their pet at home with someone, take their dog to a boarding kennel, or leave it at a friend's house.
But did you know that many dogs enjoy holidays too, sometimes even more than their owners? So why not take your pet with you?
These days, accommodation providers have become very sensitive to the needs of those who wish to bring their pet with them.  Some have provided designated rooms or cottages where owners can stay inside with their dog, while others have ensured that their property is securely fenced areas to safely contain pets. Some accommodation managers may not let your pet come inside, but they may provide a kennel on the verandah for your pet to sleep in.
If you're travelling within Victoria with your dog and are looking for accommodation, take a look at the Dogs On Holidays website. You will find:
What is the most dog-friendly area of Victoria? Based on the number of accommodation listings on the Dogs On Holidays website, that region is Gippsland. Visitors to Gippsland simply love the pristine beaches – some are so secluded, you literally have them all to yourself. Then there's the wide open spaces, mountains, forests and rivers – all things that most dogs will love when holidaying with their owners. That's why there's plenty of dog-friendly accommodation for both you and your pet when staying in Gippsland.
In which town or city in Victoria can you find the highest concentration of dog-friendly places to stay? Tallying up the accommodation listings on the Dogs On Holidays website reveals that Rye, on the Mornington Peninsula, is where you and your dog will be spoilt for choice. At Rye, there are beaches where dogs are permitted to run around leash-free year-round at certain times of the day, ensuring your dog can have plenty of fun and exercise during your beach holiday.
So with many accommodation providers now catering for pets, there's now no excuse to leave your dog at home when you next have a on holiday!