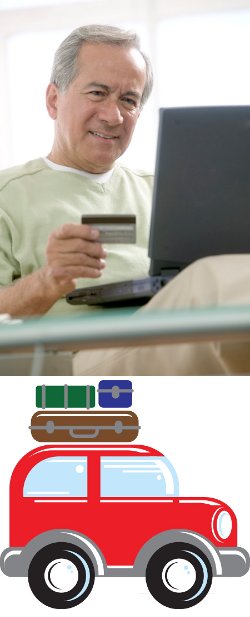 You've just spent a few great days at Mallacoota and enjoyed the natural beauty of the beach and surrounding national park. You and the family are heading home tomorrow morning, but just before going to bed, you check out the latest weather forecast on the internet – sunny and 30 degrees for the next few days – perfect beach weather! Everyone agrees the holiday should be extended by spending a few nights at Lakes Entrance for some more great beach fun.
But the problem is that school holidays are on, so many places may be booked out. It's too late in the night to telephone accommodation managers direct, so you head to the internet looking to secure a place to stay.
Searching for Lakes Entrance accommodation reveals some brand new holiday apartments just across the road from the beach and right in the town centre, which will be perfect for the family! Oh no, the only way to make an enquiry is to telephone or email them. There's no availability calendar or online booking system. You could wait for the morning to phone them, but in the meantime others may get in before you and snap up the remaining apartments. And if you wait till the morning, other vacant accommodation at Lakes Entrance might be taken.
You keep looking and find some more holiday apartments. They are older style, situated one block back from the beach, and a fair walk to the town centre. However, they do have a real-time online booking system and they have one family unit remaining for the next two nights!
As you're determined to stay in Lakes Entrance, you make the booking. It's not where you would have wanted to ideally stay, but you can't risk waiting until the morning to contact the manager of those apartments with no online booking system.
The question for managers of accommodation properties is how many bookings are you missing out on because people can't instantly check availability or book online 24/7? How many people are instead staying at places that do offer the convenience of online bookings?
It's not just last minute bookings which you may lose out on. Some people may have a list of places they want to stay in, but to spend time and money making long distance telephone calls, or being prepared to wait a day for email responses to be answered, would put them off booking with you unless they can check availability instantly and then reserve that room in the process.
In this increasingly busy, impulsive, unpredictable and digital age, more and more travellers are expecting to instantly reserve rooms, any time of day or night. Which is why you really need an online booking system.
The best online reservation systems are those which don't charge you a fee for every booking made (i.e. commission-free bookings), making the booking directly between and you and the guest, and are fully under your control. Some which you may wish to consider that are administered in Australia are:
Web Reservation Systems. Their system gives you total control over pricing, availability and conditions. The bookings are secure and guests can provide credit card details to you through this system. Implant the booking button on your website and on other sites you have your property listed with to allow customers check availability and/or book.
The Booking Button. An intelligent and fully-featured online booking facility which you can use on your website or others you're listed on. There's no lock-in contracts, you pay monthly, and pricing varies depending on the number of rooms your establishment has.
If you don't have an online booking system for your accommodation property, not only is it costing you guests, but also time. While guests organise their accommodation online instantly, you can attend to other tasks instead of being tied up on the phone or answering emails.
What are you waiting for?