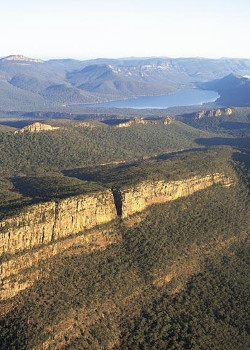 The Grampians is one of the most popular natural attractions in Victoria. Located between Adelaide and Melbourne, it consists of a vast national park that surrounds a series of rugged mountain ranges. Explore the many walking tracks including the Grampians Peak Trail, enjoy panoramic views from several lookouts, and visit beautiful lakes and waterfalls. You will be sure to encounter Australian wildlife, native wildflowers and discover ancient Aboriginal sites which are shrouded in mystery.
Right in the centre of the Grampians National Park is the tourist village of Halls Gap. This holiday town includes shops, restaurants and a large number of accommodation properties including caravan parks, apartments, chalets, cottages and motels.
In a direct straight line, the distance from Adelaide to Halls Gap is about 430 kilometres. There are several ways to get to The Grampians from Adelaide.
By car
The journey from Adelaide's CBD to Halls Gap is around 500 kilometres.
Head south-east along the South Eastern Freeway (M1). This road becomes the Princes Highway (A1) after passing to the south of Murray Bridge and crossing the Murray River.  At Tailem Bend, which is almost 100 kilometres from Adelaide, continue driving straight and then this road becomes the Dukes Highway (A8). Follow the Dukes Highway for around 190 kilometres, passing through Keith and Bordertown, until reaching the state border between South Australia and Victoria. At this point advance your clocks by 30 minutes due to crossing a timezone.
Once into Victoria, the highway is called the Western Highway (A8). Follow the Western Highway through Kaniva, Nhill, Dimboola and Horsham.
The quickest way from Horsham is to follow the Western Highway (A8) for about 45 kilometres and turn right into Mt Drummond Road, left into Ledcourt Road, right into Greenhole Road, right into Fyans Creek Road and right into Grampians Road (C216) which then leads directly to Halls Gap.  While involving a number of turns through sealed local roads, it avoids crossing major mountain ranges into the national park.
Alternatively, for a more scenic route, turn right off the Western Highway about 15 kilometres out of Horsham onto Northern Grampians Road (C222).  From here, it will be a 57 kilometre to the centre of Halls Gap via Wartook and Zumsteins.  This road is also known as Mt Victoria Road once you get inside the Grampians National Park.  Before reaching Halls Gap, take a short detour to the famous MacKenzie Falls, Wartook Reservoir and the scenic Reed Lookout.
The entire journey will usually take around 5 hours and 15 minutes if you drive non-stop, however allow at least an extra 15 minutes if you choose the more scenic route via Wartook.  Given the length of this journey, it is recommended that you do not drive for more than 2 hours continuously without taking a break.
Driving directions from Adelaide to The Grampians
By public transport
Getting to Halls Gap from Adelaide using public transport requires the use of a train and a bus service.
Catch The Overland train from Adelaide's railway station to Stawell in Victoria. This will take about 6 and a half hours.  Currently, this train only runs Monday and Friday, arriving at Stawell at 2:54pm. See the timetable for the Adelaide to Melbourne train.
From Stawell railway station to Halls Gap, there are two bus services.
The V/Line bus to Halls Gap operates Monday to Friday, however it departs from Stawell in the middle of the day, between 12:20 and 12:50, depending on the actual day.  Unless you are planning to stay overnight in Stawell (which you can, it's a lovely town and there are a number of accommodation options in Stawell), then this bus service is not suitable.
In order to do the journey from Adelaide to Halls Gap in one day, you will need to catch Sandlant's Halls Gap bus which departs from Stawell on weekdays at 7:15am and 3:55pm.  The only choice is to take the 3:55pm service, which means you will need to wait for an hour in Stawell after arriving by train.  Once on the bus, it will have you arriving in the Halls Gap town centre within about 20 minutes. See the timetable for the bus to Halls Gap.
By public transport and hire car
Having your own vehicle in the Grampians will make it a lot easier to get to the many attractions in the national park and surrounding areas, however the drive from Adelaide can be a long one.
Another option is to catch The Overland train from Adelaide to Horsham (see the timetable for the Adelaide to Melbourne train) and then hire a car in Horsham for the 55 to 70 minute drive to Halls Gap.
Car hire from Horsham