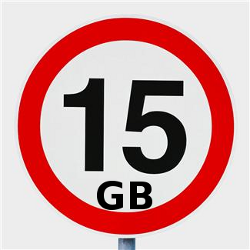 In this day and age, the number one source of travel information is the internet, yet some businesses just don't get it.  They pour thousands of dollars into making sure their brochures and other print promotional material are 100% perfect, yet they skimp on the reliability of their website.
We recently discussed website monitoring, to ensure website owners are notified almost immediately if their website becomes unavailable.
An issue which affects some websites during busy high-traffic times of year, such as the summer and Christmas holiday period in Australia, is data transfer limits. Many website hosting plans have limits on how much data a website can send and receive. This data includes uploads people make to a website and any downloads they make, including viewing web pages.
So what happens if a website gets really busy and exceeds its allocated data transfer quota?  Some hosting companies ensure a website's service is not compromised and automatically bill the owner an excess data fee. This is similar to the excess data usage that users of mobile phones may encounter after browsing or downloading in excess of their allocated monthly allowance. Other web hosting companies simply block access to websites which consume data beyond the limits of their plan, taking the site off-line until the next data allowance cycle arrives. This is similar to pre-paid mobile phone plans – if your credit runs out, your service stops.
An example of such a website being blocked has happened today with a popular caravan and holiday park on Victoria's famous Great Ocean Road, whom we won't name to protect their privacy.

Summer in Victoria is all about warm weather, long days and of course the beach. For those managing a caravan park overlooking one of Victoria's most famous coastal areas, you simply cannot have your website off-line just before Christmas.
Having your website go off-line periodically due to data transfer limits is detrimental on your business. Ensure that:
Your hosting plan includes a generous data limit, well in excess of what you'd ever expect to be used. Some plans even have unlimited data allowances.
Your hosting plan has automatic provisions for your website to continue running even if you exceed your data limit. Never allow it to go off-line or your business will suffer, usually at the worst possible time.
Regularly monitor your website's data usage to ensure you haven't out-grown your existing web hosting plan.