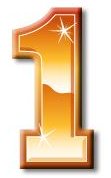 As a website owner, you will no doubt be regularly bombarded with offers from SEO (search engine optimisation) experts who guarantee to get your website to No.1 on Google's search pages. They claim that for a modest fee, they will alter some of the text, rename files or adjust the layout of your website which will cause it to appear at the top of Google's results for search keywords of your choice, such as "luxury accommodation in Daylesford" or "Ballarat motel". Sounds too good to be true?
Keep in mind that while SEO experts may have an idea of some of the workings of search engines and how they rank pages, promises of guaranteed No.1 rankings are typically fanciful. This is simply because SEO experts have no control over Google and can thus cannot command Google to rank web pages in certain ways.  All they can do is influence the ranking of your website. Google is regularly altering their ranking algorithms to improve their search results, so even if they do manage to get you to No.1 for the keywords of your choice, it may only be short-lived glory.
Here at Travel Victoria, we regularly monitor where some of our web pages rank in Google for some search terms.  We have seen big fluctuations on a daily basis in how some of our pages are ranked, while other pages have remained rock steady for years. Today, a Google search for the town of Mansfield actually has us at No.1, but tomorrow we could be at No.5 or even lower. We just don't know what tomorrow will bring, simply because we do not have direct control over the order in which Google will display web pages.
Another thing to consider when confronted by offers of SEO is who you are dealing with. Most of these SEO offers come via email – typical of people or organisations using the cheapest way of contacting people rather than telephoning or physically posting you something. And many of these emails are sent by people claiming to be senior experts in large corporations which specialise in search engine optimisation.  So why are they coming to you from a generic Gmail.com or Hotmail.com email address?
Remember that SEO professionals can offer services which may benefit the ranking of your website, but the best they can do is influence search engines like Google – they cannot make guarantees that you'll attain a certain ranking and then retain it forever.