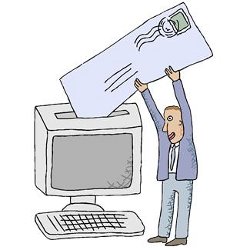 Email is great for quick and easy communication, however some larger organisations are increasingly treating email from the general public as no more than a nuisance and give low priority to dealing with it.
Let's consider a recent situation we experienced.  While developing our Dogs On Holidays website, we wanted to create a page containing links to specific pages on the websites of all Victorian coastal municipalities where they define which beaches are dog friendly and any associated conditions visitors had to abide by when bring their pet.
We were able to find the required information about bringing dogs on beaches on the websites of 15 of the 18 coastal municipalities in Victoria, so it was just a simple job to link to their relevant pages. We couldn't find the information we needed on the websites of the remaining 3 municipalities, which either meant we weren't looking in the right place, or they simply didn't publish it.
Our next step was to email these 3 coastal municipalities, asking them where we could access information about bringing dogs on their local beaches.  By doing so, we discovered how responsive these organisations were to fairly straightforward and genuine requests for information.  Our expectation was an email response within 3 working days, however none of those municipalities managed to achieve that, although one came very close.
South Gippsland Shire. With their headquarters Leongatha and covering the coastal communities of Venus Bay, Walkerville, Watarah Bay, Sandy Point and Port Welshpool, they were the quickest to respond.  They managed to reply in just over 4 business days from receiving our request.
Corangamite Shire. Administered from Camperdown, this municipality covers the Great Ocean Road holiday towns of Port Campbell and Princetown. We received a response after 6 business days from the local laws officer.
Colac-Otway Shire. Run from their headquarters in Colac, this shire covers the coastal areas on either side of Cape Otway including Johanna, Glenaire, Marengo, Apollo Bay, Skenes Creek, Kennett River and Wye River. The Colac-Otway Shire performed the worst out of our bunch of three. After 15 business days (3 weeks), we are yet to receive a response.  Too bad if we were planning a visit or holiday in the area. Maybe they want people with dogs to go further along the coast and into another municipality instead?
Of course there's no excuse for a non-reply after 3 weeks.  Even if the Colac-Otway Shire kept no records of which of its beaches dogs are allowed on, or if the question could have been better answered by another organisation, a quick reply to that effect would have been much more appropriate than simply ignoring the request for information.
Unfortunately, this experience highlights what is sadly becoming all too common these days – organisations taking an eternity to respond to emails or simply not replying at all. Email communications is supposed to save time and money, but instead it seems to be an increasing source of frustration for individuals trying to communicate with organisations, only to endure long delays in receiving a reply or having their communications ignored.
So if you're working as part of an organisation, treat emails as important as phone calls or letters in the mail. We do here at Travel Victoria, so why shouldn't you?